• Blair Steadman
I am very excited to announce that in order to further grow and distinguish our brand, our name will be changing January 2019 to Laurel Lynn Boutique.   The following will NOT be affected by the name change: Our telephone number and shipping address will remain the same. We will retain all previous order information for reference. We will continue to accept returns on items purchased prior to the official change. All coupon codes will remain valid. We will continue to offer the same quality products. Most importantly, we will continue to offer you the same great customer service. Things that...
---
• Blair Steadman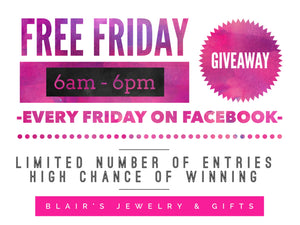 Who doesn't love FREE?!  Join us on Facebook every Friday for our Free Friday Giveaway.   Every Friday, we post a giveaway at random between the hours of 6am and 6pm.  To enter, you simply need to comment on the post.  We only allow a limited number of entries, so make sure you don't miss it!  Be sure to: Like our page. Follow our page. Select to see our posts FIRST in your news feed by hovering over the Following button. Turn notifications on.   Click on the Facebook button below to go to our page.  Hope to see you there...
---
• Blair Steadman
All women's and children's clothing is 50% off!  That's an additional 50% off already reduced prices.  Use coupon code SALE50.  Sale ends 6/10/18.
---
• Blair Steadman
The biggest shopping weekend of the year is almost here!  Here's a look at our upcoming sales and specials. Black Friday A new item will go on sale every hour from 5:00am till 11:59pm.  You can view a sneak peek of those items on our Facebook page.  Click HERE. Small Business Saturday We appreciate you shopping small!  We will be rewarding our customers with Free Shipping (U.S. only) on orders over $75 plus a free holiday themed bracelet valued at $15. Cyber Monday Share your shopping cart on social media for a discount!  It's a win-win!  You get a deal...
---
• Blair Steadman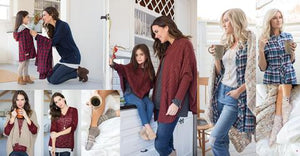 Best known for their #1 selling Bordeaux Wrap and Bordeaux Cardi Wrap, Simply Noelle offers a great selection of women's clothing and accessories.  Our favorites being their versatile ponchos, wraps, and cardigans! If you're looking for comfort, high fashion, and versatility, Simply Noelle is your brand!  Check out some of our favorites below or view the entire collection here: SIMPLY NOELLE